February 28th, 2012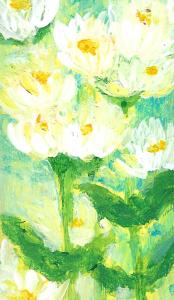 The Language of Flowers by Paramhansa Yogananda

"God is the Master Painter. His infinite beauty is creeping in the beauty of the flower. Every time you see a blossom, think of Him. God is invisible. If He didn't speak to us through flowers, how could we know Him? He is telling us every day of His existence.

Flowers are given to us for a purpose. They talk to us more about God than anything else. They tell us every day that God is right here. The flower that is talking of God all the time loves to serve all with its beauty.

Flowers have been in use in the temples of all countries. They are not just for demonstration but are for declaring the fragrance and beauty of God that you may behold through them, the presence of God. Each flower is a divine temple through which the Divine One comes to us. " - from the Praecepta Lessons, 1938

Try this for fun, a wonderful and simple meditation: Find a flower and for five minutes, look at this flower, give all your attention to what you see in the flower, observe the flower with the eyes of a child with great curiosity and joy at what the flower has to tell and show you.

After you try this, if you would like to share, please do! Leave a comment and share what your experience was and what you learned from the flower.

The Language of Flowers ~ "The flower that is talking all of the time loves to serve all with its beauty."